CHARMING TUCSON RV RESORT AND HOTEL- STAY & PLAY AND EXPLORE IN STYLE!
The Voyager Resort's on-site amenities and services give our residents and guests the true resort experience. From recreation, exercise, golf, health services, spa services and on-site dining.
The resort has several seasonal and year round living options. Options include RV sites, vacation rentals and park model rentals. The resort's hotel is perfect for experiencing all the resort has to offer.
View Map of Our Amenities
About Voyager
About our Luxury RV Resort Community in Tucson, Arizona
During peak season, Voyager is a resort community made up of over 4,000 active adults. There are over 300 planned activities from which our residents can choose to participate. You can be as busy as you want at Voyager. Much of this website is devoted to showing you what we have.
Many of our residents leave Voyager around the first part of April each year. Those of us who stay, know that April and May can be the most pleasant months here.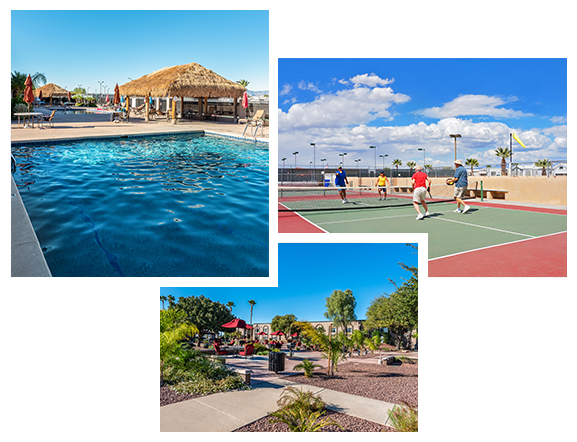 Facilities at Voyager
Voyager Hotel
Restaurant and Bar
9-Hole Golf Course
Golf Pro Shop
Market and Gift Shop
Dog Exercise Areas
WiFi Hotspots
2 Laundromats
RV Storage
Ballroom
Library
Card Rooms
Craft Shops
Wood Shop
Bocce Courts
Horseshoe Pits
Billiards Room
Shuffleboard Courts
Tennis Courts
Pickleball Courts
Fitness Center
Meeting Rooms
Air, Water, Vacuum Center
Computer Resource Center
Men's and Women's Showers
Sewing and Quilting Rooms
Heated Pools—Covered and Outdoor
Hot Tubs and Sauna
Bar & Grill
A Taste of Southwestern Hospitality at Fat Willy's Clubhouse!
Fat Willy's Clubhouse serves traditional American fare for breakfast, lunch and dinner in a relaxed, casual atmosphere—and offers a menu to please everyone! From tasty appetizers, hearty sandwiches, wonderful dinner entrées, ice cold drinks and the BEST burgers in Tucson. Fat Willy's Clubhouse is the perfect place to begin or end a fun-filled day at the resort! Our hours of operation are subject to change seasonally.
SUMMER HOURS
SUNDAY – SUNDAY 8AM – 8PM
Breakfast Menu
Lunch & Dinner Menu
To-Go Menu
*Hours of operation are subject to change seasonally.
Fat Willy's Market & Gift Shop
Fat Willy's Market is stocked with many convenience and grocery items that you may need. We carry food, beverage, beer, wine, health & beauty products, RV items, cards and gifts. We are adding more items monthly.
Fat Willy's Market & Gift Shop is open Sunday – Sunday from 8:00 a.m. – 8:00 p.m.
*Hours of operation are subject to change seasonally.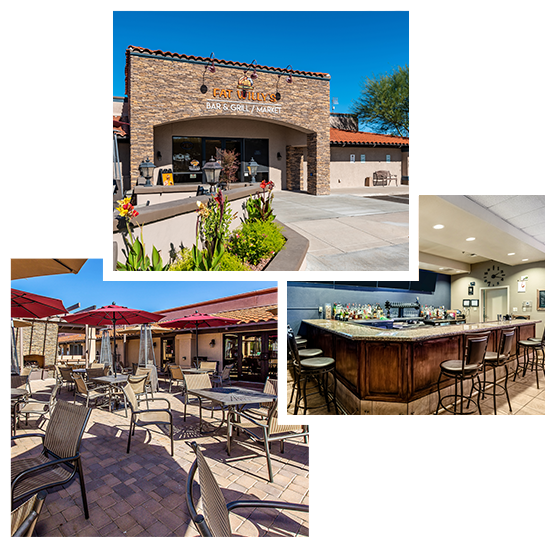 Golf Course
Come and play the Voyager Resort Golf Course. A very challenging 9-hole Par 3 nestled around a lake. It is an easy course to walk, however Handicap carts are allowed. Practice your swing at the provided net area. There is also a nice putting green. The exercise is great, but the mountain views are spectacular and the sunsets unforgettable.
Call 520-574-5700 for a tee time. Click to view our Scorecard.
Pro Shop
The Pro Shop is a great place to shop for all of your golfing needs. You will find smiling faces waiting to help you! Beverages and snacks are readily available for your convenience while enjoying the patio area overlooking the beautiful course and lake.
Hours of operation are subject to change seasonally.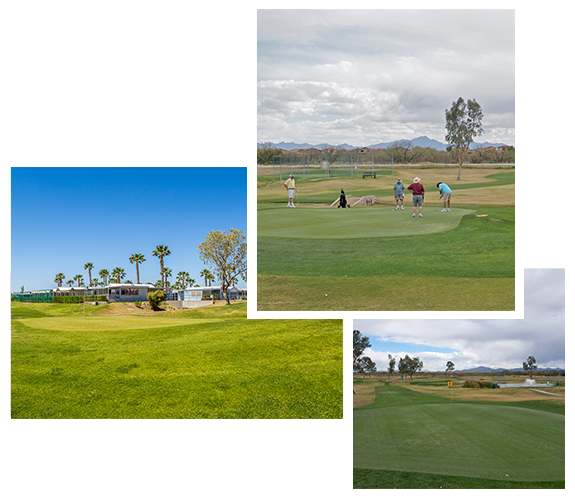 Spa Services
Unwind & Rejuvenate At Our Full Service Spa & Salon
The Desert Clipper Beauty and Barber Shop at Voyager Resort offers a full-service salon that includes cut, color, manicure, pedicure as well as skin services.
We understand that external beauty is only sustainable through a healthy mind, body and spiritual connection. However, we also know that our lives are full and we are often too busy to nurture ourselves. There are many choices available to us today which can be overwhelming. We have tried to simplify those choices by bringing you the best in hair, skin and body care, on your schedule, all under the convenience of one roof.
We take beauty seriously and are continually striving for ways to renew and rejuvenate our clients. Call us today to experience the highest level of beauty and service to help you discover the ultimate you. Consult with our well trained stylists about the best look for you and indulge in a un-rushed environment where you can unwind and relax.
Call 520-574-5600 for a consultation or feel free to come in and see for yourself!
Health Center
Skilled & Caring Resort Health & Wellness Clinic
The Voyager Resort recognizes the difficulties that our residents and guests may have when trying to find medical care while traveling. Our resort is pleased to offer health care services in the resort clinic located on our campus.
Journeys Health Clinic at the Voyager Hotel and RV Resort has been providing comprehensive outpatient health care for 15 years and is the office of Dr. Mary Beth Lochner RN, DNP, FNP-C.
The clinic is open Tuesday through Thursday from October to May and flexible hours in the summer and early fall months. Our clinic offers a wide range of services to assist you in meeting your healthy living goals. These include, but are not limited to, the following:
Primary care for chronic disease management and short-term illnesses and injuries
INR (International Normalized Ratio) program established to monitor and manage the medication(s) taken to prevent blood clots
Routine preventive and well care
Skin cancer screening and basic skin care procedures
Foot and nail care services
Injection services
Ear canal cleaning and wax removal
The clinic's mission is to provide nursing-centered high quality health care and health education for all older adults in need and accepts Medicare as well as most insurance.
Additionally on-site is the Excel Physical Therapy.
Paul Wheeler, PT, DPT owns and operates the physical therapy clinic. Providing physical therapy and rehabilitation services; treating orthopedic conditions, neck and back pain, and post surgical rehabilitation; and providing balance and fall prevention programs.